I Want To Be Slapped & f**ked Like A Slut – Lady Reveals On Twitter
A Twitter user is making rounds on the platform after she revealed her sexual fantasy. According to the lady, she wants to be bitten and slapped as that is what will ake her enjoy s*x.
The lady answering the question what will make everyone feel alright now said;
"S*x!! Not just that regular sex o. Intense pounding with mad foreplay, biting, slapping, dirty talks. I want to be punished because I've been such a bad girl. I wanna be spanked. I wanna be f*cked like a slut. I want to beg for mercy and repent on the dick with squirt and tears."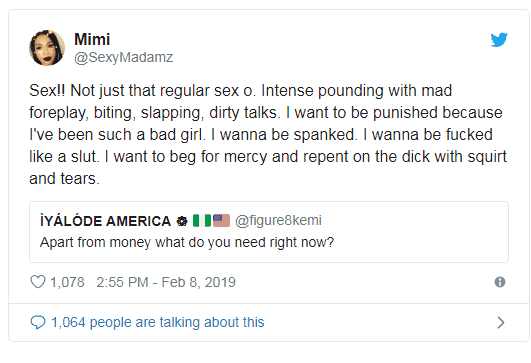 What do you think about this post?
We want to hear from you all.
CLICK TO SEE OR ADD COMMENT